Bathroom and Laundry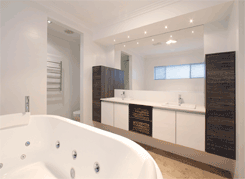 As well as designing and constructing beautiful kitchens, we also specialise in bathroom and laundry renovations.
The key to a great bathroom is space and functionality. You need a well-designed room that is able to maximise its space.
Maybe you want to go for a cool minimalist look or perhaps create a warm, luxurious feel. Whatever you have in mind, our team can help you select fixtures and fittings that meet your requirements and your budget.
Utilising our wealth of experience, we know exactly what it takes to create a truly spectacular bathroom that complements your home.
One room that many people neglect is the laundry and utility room. However, well-designed this can not only look amazing, but also offer practical adequate storage space.
When your're renovating an existing laundry there are lots of factors to consider, such as drainage, ventilation, plumbing and wiring.
Choose TM Kitchens, and we'll worry about all of these things so that you don't have to!