Quality Features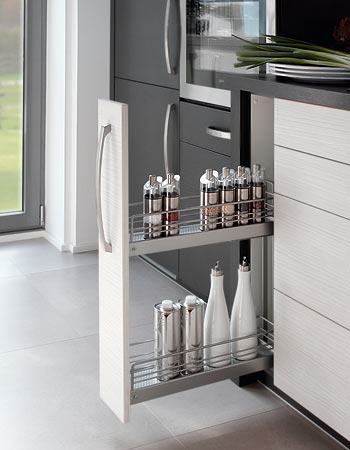 Electronic Glass Doors
These unique wall units are the latest trend from Europe and are supplied here in Perth by TM Kitchens.
They work on an electronic 'climbing' system which operates on a touch panel sensor switch system which is located at the base of the unit.
They are designed to fit flush with adjacent wall units and come in variable heights and widths.  One of the advantages of using this alternative door is that it minimises any possible ceiling height restrictions.
The Lourve fronts come in a sleek Black; sublime White or classic Frosted Glass and the unit carcase can be matched in laminate or high gloss.
These sophisticated units can be enhanced by an integrated light system installed in the bottom shelf.
Electronic Servo Drive Drawers
Here at TM Kitchens we are experiencing a growing favour towards the introduction of electronic functions within the kitchen design. These not only appease the ascetic and current trend demands of the market but are able to offer a far more significant and necessary service.
The provisions of the electronic servo-drive application are able to assist people living independently with disabilities or for those anticipating future aged care in place.